Millions of people a year come to Corfu for the history, architecture, culture and cuisine. Yet, let's be honest, most come for the sun, crystal clear water and the golden beaches. Corfu is spotted with thousands of beaches, some easy to find and other only accessible by boat. We've put together a list to help you find the beach that is perfect for you.
Agios Ioannis Beach


Situated on the eastern side of Sidari, Agios Yannis beach is a tranquil sandy shore that runs into the olive groves and monastery overlooking Sidari. With less boat traffic than most beaches and a large shallow sand-bar perfect for kids, it is a great alternative to Sidari's other busy beaches.
Sidari Beach


Large, sandy and full of activites, Sidari's main beach is situated between the harbor and the cliffs of Canal D' Amour. Centrally located, it runs parallel to the main road that cuts through Sidari and is lined with bars, restaurants, cafes and tourist shops. With so much going on, it's for the tourists that don't mind a bit of noise and traffic.
Canal D' Amour Beach


Truly one of Corfu's great natural wonders, Canal D' Amour is a mixture of beaches-Cliffs-Caves and crystal water. Visited by thousands of people each year and enjoyed by even more, it is a beautiful place to spend the day...if you can find space. Often times, Canal D' Amour is too busy to really enjoy peacefully and if you're thinking about going, it is best to go before 10:00 am or you might be left without a sandy spot.
Bars/ restaurants/ Pools

Shopping

Beach Chair/Umbrella Rental
Apotripiti Beach


Apotripiti Beach: Is a lesser known but equally beautiful beach that you can easily pass by without ever knowing it even exists. About 500 meters past Canal D' Amour on the right hand side, there is a small sign and a road that runs towards the small beach and Island of Apotripiti. A favorite by many locals, especially children, Apotripiti is a relaxing alternative to Canal D' Amour and even has its own private island!
Beach Chair/Umbrella Rental

Pedal Boat/Canoe Rental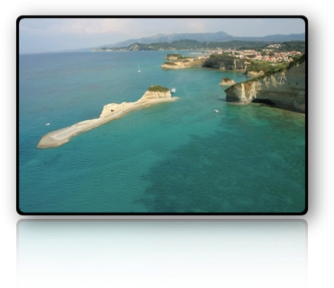 Drasti Beach


Private, secluded and slightly secret - Drasti beach is for the die-hard explorers. Some consider it the most beautiful spot on Corfu's Northern Coast, Drasti is one of those places that makes you work for it - in terms of its accessibility. Many tourists go there by rented boat, as it is easier to reach and parking is never an issue.
Logas (Sunset Beach)


Reaching the far end of Peroulades, Sunset beach sits bellow a large cliff and faces Corfu's three sister Islands to the North.One can enjoy the most stunning sunsets from its cliffs, or walk down to its rugged sandy stretch of shoreline, that faces the open Adriatic Sea to the North. With a wonderful Bar/Restaurant at its peak, Sunset beach is a must see for any couple wanting to add some romance to their holiday.
Bars/ restaurants

Beach Chairs/ Umbrella Rental


Contact Us - Newsletter - Membership - Gallery - Press & Media - Terms & Conditions - Help - Site Map


Corfu Office Tele: 0030-6936604377
Office Hours: Mon - Sat 8am to 2pm and 5pm to 8pm (+2 GMT)
E-Mail: info@corfubyu.com