Corfu Boat Hire:
One of the best ways to see Corfu is by boat. It allows you to experience Corfu in a very different and exciting way, especially if you are the captain!
Renting or hiring a boat
is also very easy and doesn't require any fancy paperwork - just bravery.
Greek law states that anyone can hire and drive a boat with an engine less than 30hp without any special licenses - good news for us!! We work with two very good companies here in Sidari and they have been renting boats to guest for over 20 years - so don't worry.
The Yellow Boat Comapny
and
Baywatch Boat Hire
have all the boats you could ever want when visiting Corfu and especially Sidari. Both provide all the equipment you could want and need like life vests, petrol, sun shades, maps and the best locations to visit. Hiring a boat allows you to visit Corfu's north coast and all of its hidden private islands, coves, caves and amazing private beaches that are accessible by
boat only
.

Places To Visit By Car Hire On Corfu
Canal D' Amour:
One of the most beautiful places to visit on Corfu is this cave on Sidari's western side. Crystal clear water, private beaches and cliff diving are all the rage!
By
renting a
boat getting to Canal D' Amour is easy as it's only a short boat trip (10min) from Sidari's main beach. Check it out!
Sidari:
The Biggest town on the North coast of Corfu is Sidari and it has some of the most stunning natural locations. From Canal D' Amour to Drasti, Sidari has everything one might need when going on a
boating
adventure - even fishing.
Arillas:
Arguably one of the best swimming location on all of Corfu with its aqua-crystal water, Arillas is a must see.
Located along Corfu's Northern coast, Arillas can be reached by following the winding coast that exits Sidari and twists West along the sea.

Drasti:
One of the most unknown places on Corfu and on the Northern Coast, Drasti is a hidden gem only reached by boat of by swimming. With its private Island and golden snd coves, reaching it by boat is like being in paradise.
Drasti - Sidari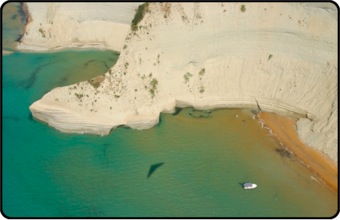 Canal D' Amour - Sidari
Booking:
Interested in renting, hiring or booking a boat on your next trip to Corfu? Like planning ahead and making sure all your trips are scheduled? Let Corfubyu book or provide you with all the information you might need in order to have a great time this summer season in an adventure filled boat. Simply by
Emailing
us or

filling out our
booking
or
contact form
, we will be able to respond to you quickly with anything you might need. Please remember that you will need to follow all the rules of the renting company - this is the law. Boating is fun but safety is the first rule of having fu this summer season. If you have any additional questions, please
Email
us by clicking
here
. We are proud to sponsor
The Yellow Boat Company
and
Baywatch Boat Hire
for all your boating needs.

Contact Us - Newsletter - Membership - Gallery - Press & Media - Terms & Conditions - Help - Site Map


Corfu Office Tele: 0030-6936604377
Office Hours: Mon - Sat 8am to 2pm and 5pm to 8pm (+2 GMT)
E-Mail: info@corfubyu.com